Traces of baskets have been found to date back to when the Egyptian pyramids were built, impressions of woven basket liners have been found inside the fragments of ancient pottery. It is thought that explorers and travellers traded goods when they arrived in new lands, which then spread the craft to other parts of the world.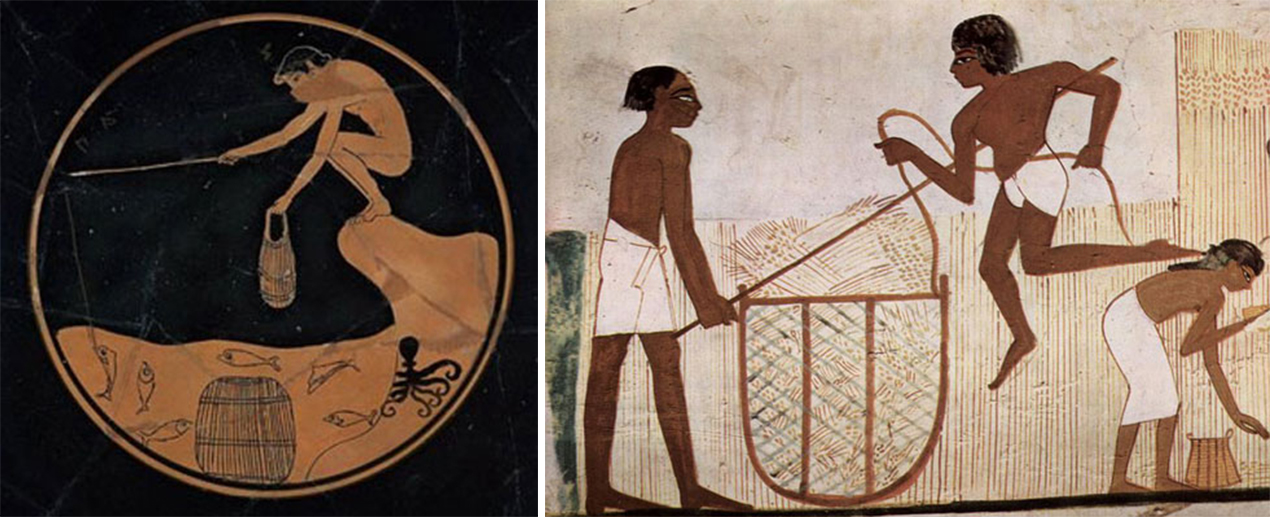 The Native Americans may have left the greatest legacy to the world of baskets but it was the Indians of Arizona and New Mexico who made basket moulded pottery from 5000 to 1000 B.C. as a part of the earliest basket heritage. It is their baskets that are regarded as the pure form of art and one that was created not only by the primitive people but also by women. Consequently, many archeological sites contain baskets – some of the oldest ones are caves and shelters in Oregon, Nevada, Utah and the Great Basin region. The Great Basin region is one of the best preserving areas because of its dry climate. These sites contain examples of prehistoric coiled and twined basketry from up to 11,000 years ago. Other forms of twining such as mats and bags have been found as early as 9,000 years ago. (s.d. 2019)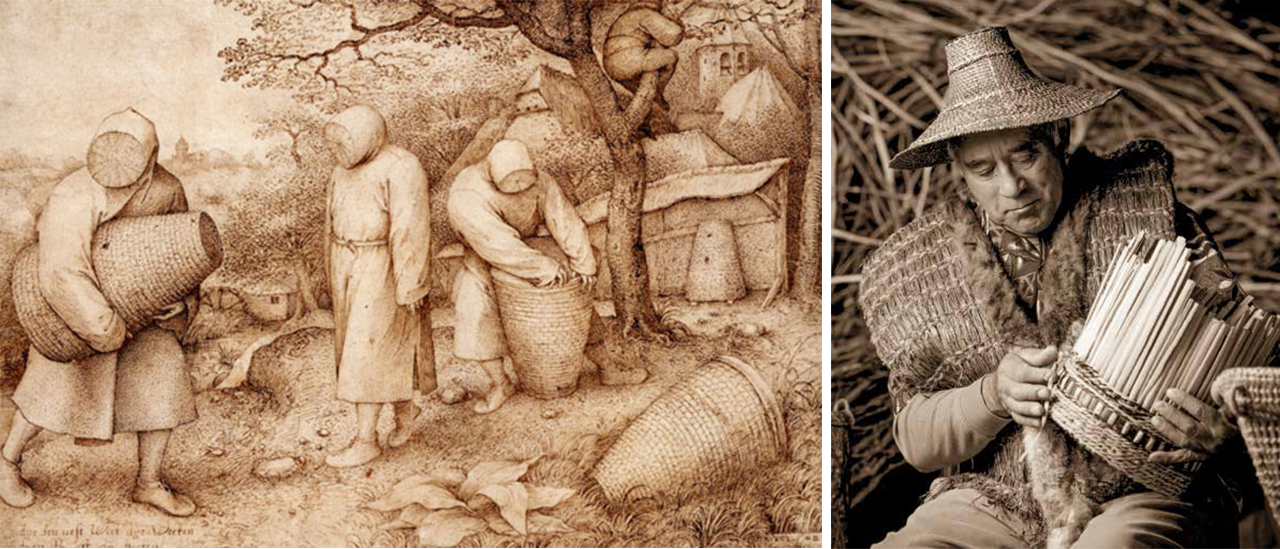 Native Americans have created baskets using techniques passed down from generation to generation. The different shapes and sizes made were much needed for storing, carrying, serving, drinking and protecting food items, liquids and personal objects.
The example of baskets below are from the Seton Hall University Museum of Anthropology and Archaeology (SHUMAA) collection. They represent a cross-section of designs from the Zuni, Pima and Pomo tribes from the western United States. Although there are four main techniques for making baskets, these on display are either coiled, twined, or a blend of both approaches. Coiling begins at the centre of a basket and radiates outward in spirals. Each spiral is sewn to the one that precedes it. Twining is a technique in which one thread is woven over another to form a strong foundation of horizontals and verticals.
The materials used in basket making depended on the tribe's geographic location and their traditions. Many Northeast Indians used sweet grass. The Southeastern tribes, often used pine needles and wicker, while the Northwest Indians used spruce root and cedar bark. Yucca and sumac were often used by the Southwest Indians. Anything pliable could be used in basket weaving as long as it was bendable and could form a shape. (Google Arts & Culture, s.d.)
Referencing
(s.d. 2019) https://www.gulmoharlane.com/blog/the-chronicles-of-basketry (accessed 12.1.22)
(Google Arts & Culture, s.d.) https://artsandculture.google.com/story/native-american-basketry/xgKCiVDR6UhdKQ (accessed 12.1.22)
Images
Fig. 1 – Late Archaic Period, 510-500 B.C. Greece | Ancient Egypt Painting, 1400 B.C. https://www.gulmoharlane.com/blog/the-chronicles-of-basketry (accessed 12.1.22)
Fig. 2 – Beekeepers, Brussels, 1568 | Ed Carriere weaving a cattail basket while wearing a woven cedar-bark vest and cedar-bark hat https://www.gulmoharlane.com/blog/the-chronicles-of-basketry (accessed 12.1.22)
Fig. 3 – Examples of baskets made by American tribes https://www.shu.edu/news/walsh-gallery-exhibits-go-online.cfm (accessed 12.1.22)