I have researched the different materials used to make basketry and listed a few here.
Pine has always been used by the American Indians, taken from the longleaf piney woods forest of Louisiana. In Louisiana there are three regions that have been historically longleaf pine. Much of the longleaf pine was harvested in the early 1900's and replanted with the faster growing loblolly and slash pine.
Coiled straw baskets were made from a need to provide a variety of containers for domestic and agricultural purposes and straw was a readily available and low-cost raw material that was used to make robust baskets. They would have been made all over the UK but they are particularly associated with Scotland and Wales.
Willow was often used by the Romans for basketmaking. Britain was renowned for skilled basketry, and large quantities were exported to Rome. Somerset, with wetlands suitable for willow beds, was the heart of Britain's willow industry.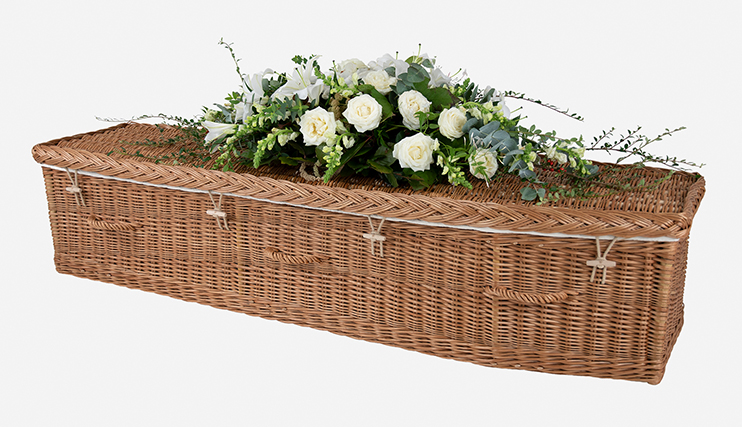 White oak (Quercus alba) is one of the most common basketmaking materials in the upland southern region of the United States. Where most basket weavers use flat splits to construct their wares, during the 19th and 20th centuries, makers in Southern Indiana produced baskets out of thin oak splits that makers pulled through iron dies to render them round.
Hazel basketry was a traditional rural Welsh craft, practiced often by farmers for own use, with limited opportunities for marketing. Hazel is susceptible to woodworm so old examples are hard to find.
Most basketry weavers will add a colour to their designs, most of the materials will take naturally to the dye but some won't. Some will need a bonding agent called a tannic acid to help with the process. The weavers dye the material first before weaving and use chemical compounds called alum, as well as tannin, which is natural micro nutrient found in plants, bark, wood, seeds, leaves and fruit skins.
Images
Fig. 1 – An example of a basket made from pine needles by the American Indians https://www.randolphartsguild.com/pine-needle-basket-from-the-native-american-tradition/ (accessed 12.1.22)
Fig. 2 – A collection of coiled basketry made from straw https://www.bada.org/object/collection-welsh-straw-baskets (accessed 12.1.22)
Fig. 3 – A traditional willow coffin made in Somerset, UK https://www.somersetwillowcoffins.co.uk/ (accessed 12.1.22)
Fig. 4 – White Oak traditionally made in South America https://jaskets.blogspot.com/2009/06/gregory-baskets.html (accessed 12.1.22)
Fig. 5 – An example of Hazel basketry, a traditional Welsh craft https://www.newalesheritageforum.org.uk/en/a077-hazel-basket/ (accessed 12.1.22)