Research task: Explore the context of architecture
Much like the previous exercise, I have carried out some research on contemporary examples of architecture over the last 30 years and tried to identify the political, economic, social and cultural contexts of each.
The 90s saw the decline of the overly embellished post-modernist era and the beginning of the 'green' epoch of healthy and sustainable buildings. (Befront, s.d.)
Architecture in the 1990's was a time for futuristic experimentation. Architects were looking to change the status quo and showcase elegant experiments, based on no particular principles or trends at the time. They designed and created eccentric buildings and one example by Rem Koolhaas had the world in awe as he unveiled the concept of a house as a machine for living. The building had no sense of front or back challenging the conventional norm of a house and was considered a big task of engineering for its time.
The house was designed for a couple and their family, but before Koolhaas and OMA were commissioned for the project in 1994 the husband of the family was in a life threatening car accident that left him paralyzed from the waist down.
Two years after his accident, the couple approached Koolhaas to design them a new home outside of Bordeaux.  Despite having been paralysed, the man did not want a straightforward house rather he wanted a complex design, stating: "Contrary to what you would expect. I want a complex house because the house will define my world." (Kroll, s.d.)
21st Century Parametricism came about when CAD moved to DDD, Domain Driven Design software to create models in 3D.
Architects used these programs at the design phase to organise and manipulate the relationships of a building's many interrelated parts, algorithms and laser beams defined the necessary construction materials and how to assemble them. (Craven, 2018)
People were saying the software allowed for exploration and the real possibility of new organic forms. Patrik Schumacher, a partner at Zaha Hadid Architects (ZHA), who designed The Heydar Aliyev Centre, a cultural centre built in 2012 in Baku, the capital of the Republic of Azerbaijan, promoted parametricism as the natural successor to post-modernism.
The ultimate goal of parametricism is that a computer could calculate every factor imaginable and deliver a building that responds to and reflects all of them, thereby achieving architecture based on rational scientific data as opposed to intuitive artistic judgements. 'The style finally closes the transitional period of uncertainty that was engendered by the crisis of modernism and that was marked by a series of short lived episodes including post-modernism, deconstructivism and minimalism. Parametricism is the great new style after modernism.' (BIM Wiki, 2021)
Starchitecture became a new trend in 2001, when Frank Gehry designed the Guggenheim Museum in Bilbao. It opened in 1997 and put the old industrial city of Bilbao on the international cultural map. Other cities were inspired by the transformation of a run down area, it was proof that this kind of project had the potential to revitalise cities in economic decline. The concept is referred to as the Bilbao Effect. It has also been used in a more tongue-in-cheek fashion to refer to celebrities who have become involved in architecture.
Back in 1984, Apple revolutionised personal technology with the introduction of the Macintosh computer. Steve Jobs opened the New York store in 2007, it has a glass cube as its entranceway, with a stainless steel spiral staircase that features 43 cantilevered stair treads designed to support a floating cylinder of glass. The glass cube has been a beacon and an important focal point for product launches starting with the first iPhone in 2007 and sits in front of the GM Building, built in 1968 from white Georgia marble, alternating with strips of glass. Some changes were made to the building in 2019 and is nearly double the size of the original, with a higher ceiling and more natural light, creating the perfect stage for customers to discover and try Apple's newest products. What an impressive piece of architecture, but what an even more impressive staircase, with the most beautiful curved glass, creating unifying spaces and making them accessible to everyone everywhere, just like internet.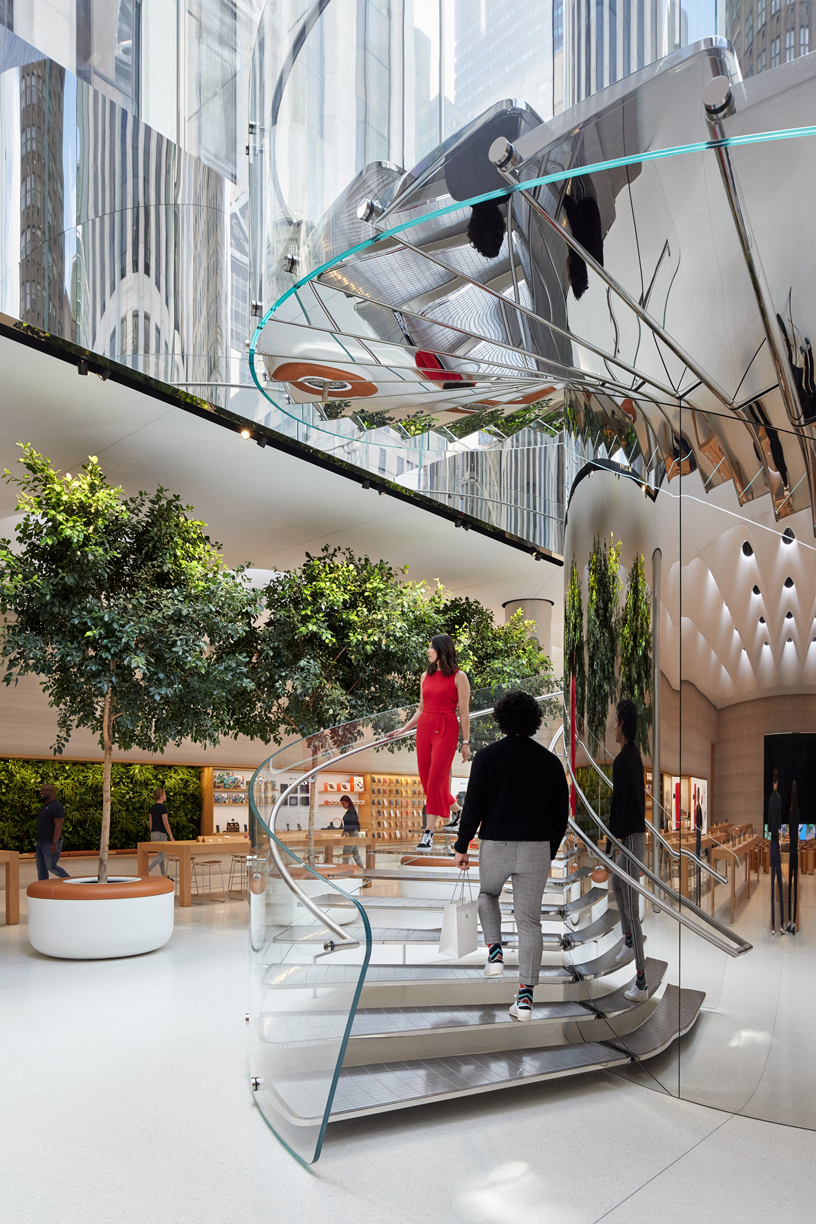 In 2017, a zero carbon cultural centre in Makli, Pakistan was built, it is a giant pavilion made from bamboo built by local artisans who are familiar with the material, helped by local people who wanted to learn how to build alongside Pakistan's first female architect, Yasmeem Lari's and the Heritage Foundation of Pakistan organisation. Bamboo was chosen as it is both renewable and highly durable. The zero carbon cultural centre serves as a social space and community centre for local people living in poor communities in the town. It was designed specifically to host hands-on workshops for locals to strengthen their skills and help them live better-quality lives. Aswell as using tradtiional building methods and zero-carbon, the shelter is also earthquake-resistant.
Referencing
(Befront, s.d.) http://befrontmag.com/2018/07/09/smells-like-90s-architecture/ accessed 1.12.21
(Kroll, s.d.) https://www.archdaily.com/104724/ad-classics-maison-bordeaux-oma accessed 2.12.21
(Craven, 2018) https://www.thoughtco.com/modernism-picture-dictionary-4065245 accessed 2.12.21
(BIM Wiki, 2021) https://www.designingbuildings.co.uk/wiki/Parametricism accessed 2.12.21
Images
Fig. 1 – Maison Bordeaux house designed by Rem Koolhaas https://www.archdaily.com/104724/ad-classics-maison-bordeaux-oma
Fig. 2 – Heydar Aliyev Centre, Baku, Azerbaijan https://www.thoughtco.com/modernism-picture-dictionary-4065245
Fig. 3 – Guggenheim Museum in Bilbao https://www.guggenheim-bilbao.eus/en/the-building
Fig. 4 – Apple Store in New York City https://www.cnet.com/tech/mobile/apple-re-opens-flashy-redesigned-nyc-fifth-ave-store/
Fig. 5 – Glass and steel spiral staircase inside the glass cube of Apple's New York Store https://www.apple.com/ca/newsroom/2019/09/apple-fifth-avenue-the-cube-is-back/
Fig. 6 – The zero carbon cultural centre in Makli, Pakistan https://www.dezeen.com/2021/11/05/zero-carbon-cultural-centre-prefabricated-bamboo-makli/