Hella Jongerius is a Dutch Industrial Designer. Her work combines new technology with age old craft techniques, by including the craft elements in the industrial production process, she aims to create products with individual character. This is so true of any design products that you see and purchase today, you can see the difference between a product that has been created by modern technology and one that has been made by hand using those age old techniques. It's not just about the aesthetics to a product, it's knowing that it has been made by hand, by a human being rather than machine gives that product such a personal story, handcrafted with passion and pride. Jongerius sees weaving as a healing process, I completely agree that by carrying out a process by hand gives you chance to really ground yourself and be in that moment, helping your wellbeing and thought processes, disconnecting yourself from the technological world if just for a short while.
"People either have very old and beautiful antique rugs on the floor, or very cheap ones, which they throw away after one or two years," she explains. "There's not a lot on between." "Why can't we have a contemporary version of this antique language? That's what I'm looking for." (Benedict Hobson, 2015)
One particular project caught my attention, the Danskina collection, now known as Kvradrat Rugs​. The report talks of how she always starts with the yarn when designing a rug, how she celebrates the the wool of a sheep with the individual design of the rug. The process starts by spinning yarns, trying to blend them in a special way with other yarns. Then they start to design the rug. I like this process, a simple uncomplicated personal story behind every rug design.
There are so many different projects listed on her CV, I've chosen a few examples of her work.
Jongerius has created textiles that were inspired by the Milky Way and carpets that are made from recycled uniforms, for the cabin interior for Dutch airline KLM. I was surprised to read a report that said that her being invited to design the interior had broken new ground in the aviation industry, this was due to the work historically being given to technical engineers, because the furnishings, materials and storage space must meet so many stringent requirements.
She based her design on comfort and designed her work around the company's distinctive colour palette and sustainable materials, aiming to create comfort for the passenger to work, dream and unplug from everyday life. (Chalcraft, 2013)
In 2006 she began working with the Swiss furniture company, Vitra, where she became art director for colours and surface and has been largely responsible for the evolution of a new colour palette. Colour wheels bearing names such as Rietveld, Peach and Eames are defined by swatches of light and dark, red and green, following an entirely different classification of primaries than those more familiar spectrums ROYGBIV and CMYK.
The process of developing colours and materials that would make each product as engaging as possible is long and arduous. It involves analysing hundreds of products and materials, and intensive testing for any new or revised designs. Jongerius wants to see colours in industrial design that are as nuanced as those mixed by the brushes of great artists. But each new Vitra textile has to be tested for light and colour fastness, seam slippage, flammability and abrasion. And even a minor change of colour in a plastic requires more onerous procedures, such as placing the material in a light cabin for over two thousand hours to assess its light resistance. (Rawsthorn, 2016)
The gemstone coffee table was inspired by natural semi-precious stones that illustrates her reflections of colour. This piece is made of several layers of plywood and coloured resin, in transparent, translucent and opaque finishes and it is available in three versions. A unique limited edition piece of furniture encapsulating Jongerius' love of colour and craft.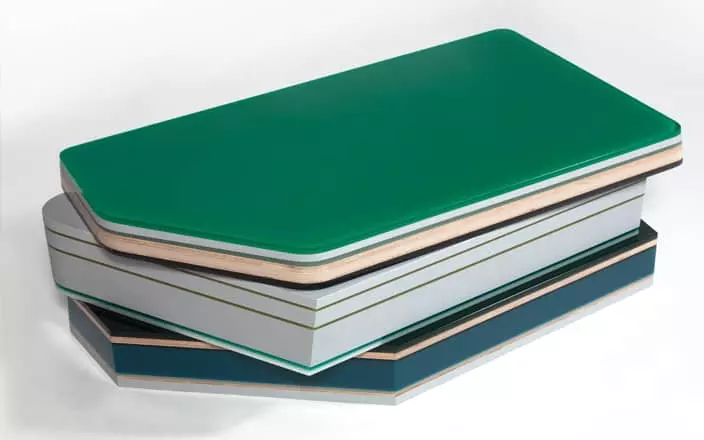 Hella Jongerius is known as a hybrid designer for designing furniture, colour combinations, textiles and many many more pieces of work. Her work is fascinating and she continues to challenge her designs based around sustainability, social responsibility and spirituality.
Referencing
(Benedict Hobson, 2015) https://www.dezeen.com/2015/07/06/movie-hella-jongerius-new-rug-collection-danskina-dew-argali-fringe/ (accessed 4.7.21)
(Chalcraft, 2013) https://www.dezeen.com/2013/03/19/hella-jongerius-designs-business-class-cabin-for-klm/ (accessed 4.7.21)
(Rawsthorn, 2016) https://www.vitra.com/en-gb/magazine/details/the-vitra-colour-and-material-library (accessed 4.7.21)
Images
Fig. 1 – Woven Cosmos exhibition at The Gropius Bau, Berlin https://www.dezeen.com/2021/04/27/hella-jongerius-gropius-bau-woven-cosmos-exhibition-live-talk/ (accessed 4.7.21)
Fig. 2 – Installation view of Woven Cosmos at the Gropius Bau, Berlin https://www.dezeen.com/2021/04/27/hella-jongerius-gropius-bau-woven-cosmos-exhibition-live-talk/ (accessed 4.7.21)
Fig. 3 – Images of the final design, model images and textile samples for the cabin interior https://www.dezeen.com/2013/03/19/hella-jongerius-designs-business-class-cabin-for-klm/ (accessed 4.7.21)
Fig. 4 – A spectrum of colour based on several of Vitra design classic furniture pieces https://www.metropolismag.com/products/textiles/the-dutch-designer-behind-vitras-color-revolution/ (accessed 4.7.21)
Fig. 5 – Gemstone Coffee Table – Model L by Hella Jongerius https://www.galeriekreo.com/en/piece/hella-jongerius/gemstone-coffee-table-model-l/#photo-2 (accessed 4.7.21)