Following on from the tiny house movement and capsule hotels research, I have now researched micro dwellings, and in particular micro-living and co-living.
My research has led me to believe that this way of living is becoming ever more popular, especially for people who want to live in cities or want to have access to a city but not at the price of urban life. Although micro-living and co-living are similar there are differences. Micro-living is the choice to live in small yet functional spaces. Co-living is similar, you have your own private small space but you share certain facilities such as garden areas, living rooms, laundry rooms and kitchen areas.
Residents of all ages choose to live this way, their rooms are often compact but then the communal spaces mean that they don't feel boxed in, it is a very social way of life but still being able to independently. Two of my daughters have experienced this way of living at University. They have their own private space in a room with a lockable door, comprises of a double bed, a desk, a wardrobe and an en-suite bathroom with a toilet and shower. They can then choose to spend time socialising with other students in the kitchen where they prepare meals. There is a dining area in the kitchen where they can sit and eat, play games and enjoy chilling with their peers. Their bedroom accommodation is ample for one person, they also live on a beautiful rural campus and so the view from their bedroom is wonderful.
Architects and developers Tom and James Teatum have launched a co-living building in west London where no two homes are the same, and residents can access spaces for working, learning and socialising. The brothers, who run both property company Noiascape and architecture studio Teatum+Teatum, designed High Street House in Shepherd's Bush to offer flexible and sociable living to residents of all ages, not just young people.
In line with the co-living model, the homes are small in size, but residents also have access to additional, shared facilities. These shared spaces include a co-working lounge that doubles as an events space, a spacious kitchen and dining room, a laundry, and a staircase that functions as a communal library. (Frearson, 2021)
Here is an example of case study where there is need of a change in design from a Parisian service-room to a two bedroom apartment, called a capsule apartment for 2 people. This particular Architectural firm has developed a toolbox of architectural solutions in order to increase life quality in existing small affordable homes.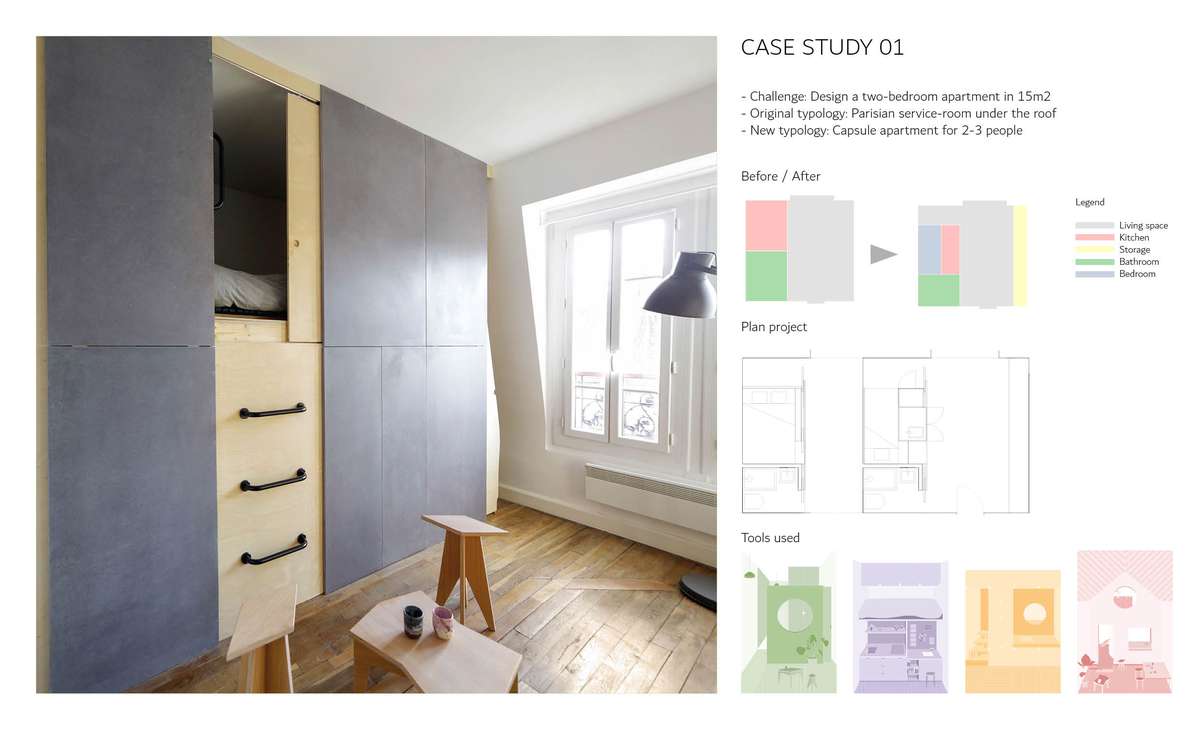 This way of designing is helping to deal with the problem of small housing, working with an existing space and creating a home for more than one person to live, in a micro-dwelling within a city.
Referencing
(Frearson, 2021) https://www.dezeen.com/2021/02/04/noiascape-high-street-house-co-living-teatum-teatum/ (accessed 10.2.21)
Images
Fig.1 – Here the skylights help to maximise natural light https://www.dezeen.com/2021/02/04/noiascape-high-street-house-co-living-teatum-teatum/ (accessed 10.2.21)
Fig. 2 – A Douglas fir kitchen and a mobile storage closet made from perforated metal make great features https://www.dezeen.com/2021/02/04/noiascape-high-street-house-co-living-teatum-teatum/ (accessed 10.2.21)
Fig. 3 – This staircase functions as a communal library https://www.dezeen.com/2021/02/04/noiascape-high-street-house-co-living-teatum-teatum/ (accessed 10.2.21)
Fig. 4 – A case study showing an existing Parisian service-room designed into a two-bedroom apartment https://futurearchitectureplatform.org/projects/02a201bc-a508-4e11-8a19-8b2f5a31fe81/ (accessed 10.2.21)
Fig. 5 – Before and After plan elevations showing the change in space https://futurearchitectureplatform.org/projects/02a201bc-a508-4e11-8a19-8b2f5a31fe81/ (accessed 10.2.21)