I have carried out some research into the design and use of Japanese capsule hotels. I found a few examples on youtube, a few people who visited this style of hotel, filmed a tour around the interior, which I found extremely helpful. I have documented my research here.
First introduced in Osaka in the late 1970s, capsule hotels were conceived as a solution to a growing problem in Japan's centers of commerce. The "salarymen"—white-collar workers who spent their days toiling in the office and their nights drinking in izakayas—needed a place to pass the hours between and buy a clean shirt before beginning the cycle anew each day. For the same price as a lengthy train ride to their homes in the outskirts, they could instead slide their weary bodies into a personal pod, complete with TV and alarm clock, within minutes of calling it a night. It was hardly glamorous, but it worked. (Drescher, 2016)
The first youtube video I watched was of two friends travelling around Japan for 10 days, and the capsule hotel is a hostel called The Millennial Hostel based in Kyoto. They describe it as like staying in a space ship, the interior has dark tones both in the furniture and on the walls and ceilings, the lounge and kitchen is an open plan space, a very modern and useable space, quite an industrial style to it. The bedroom areas look comfortable, each pod has a decent sized bed which slides up giving you some of the mattress as a headboard, then slides back down flat when you want to sleep. The mattress and lights within the pod are controlled by buttons on an iPod that you receive when you check in which also controls access to the hostel. There are numbers on the floor guiding you to the correct pod, perfect for when it's late at night and you don't want to disturb other users.
The Lounge bar is offered as a space to chill, there is a kitchen area alongside where you can get drinks and cook food. The showers and bathrooms are well equipped and you can keep your personal belongings secure in a locker with either key and iPod login facility. The design of the hostel has been given a lot of thought, especially with how people can use a space when travelling lightly. It's welcoming, trendy, comfortable, safe and secure, perfect for travellers to stop over for a night or two.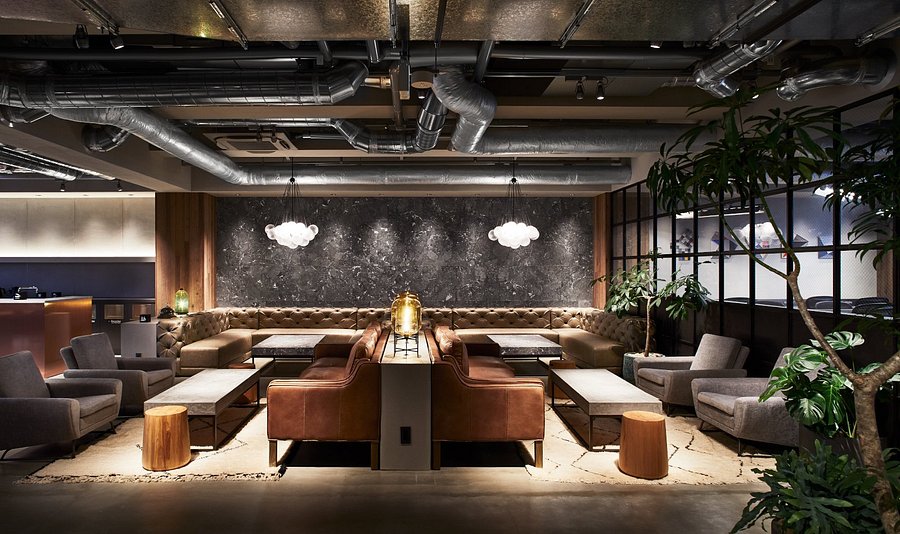 The Akihabara Bay Capsule Hotel is a female only hotel. The sleeping pods are arranged in a bunk bed style, 2 in height with steps to access to top capsule, cosy and compact for one person. Decor wise, the bathrooms and lounge area are decorated in pastel shades, a very feminine colour palette, simplistic in style, generous with the supply of toiletries when taking a shower. When you check in you are given a special check in key for which you can use to access the hotel, without the key you are unable to access the elevator or enter the rooms, a great security feature that every traveller needs.
The bedroom capsules offer a simple compact space and they look like a calm space to sleep. Again very basic in design, and by designing the capsules in this way, maximises the space, fitting more smaller pods into one area is a very clever design idea, maximising the space which I'm sure will give a better return on profits from a business point of view. Ideal for offering a safe place to stay in the city centre. There seems less space in lounge area, not so appealing if you are travelling alone and enjoy spending time getting to know other travellers.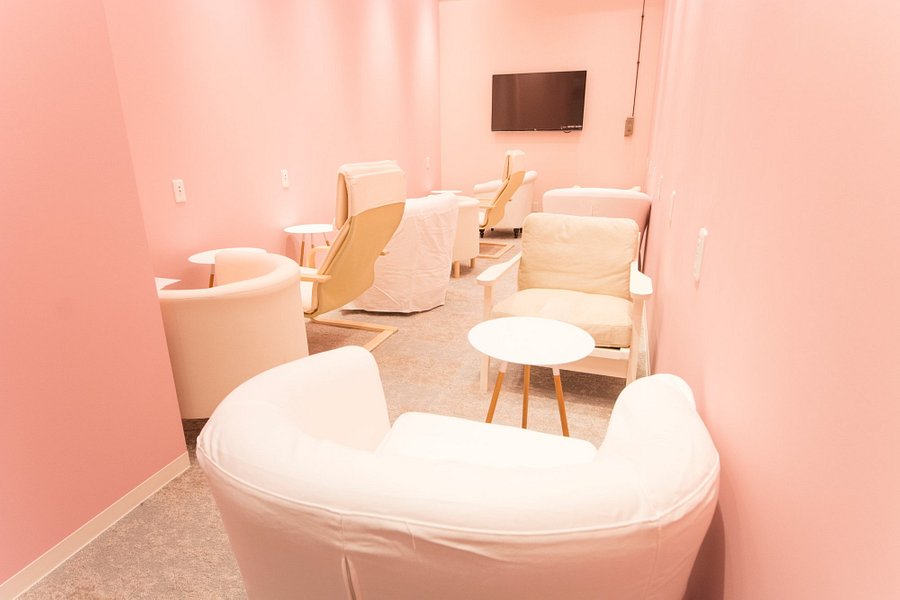 The Bay Hotel in Ginza is a capsule hotel for both men and women. Another capsule hotel offering bunk bed style accommodation, you can pay a little extra to have a bed at the top and a separate room underneath to chill out in. The capsule pods offer a reasonable space to sleep in, there is enough space to sit up in the bed, it looks fairly comfortable and private. There are lockers for shoes and separate lockers for your belongings and so you don't need to keep your belongings in the capsule. The hotel offer you a hospitality bag for each stay, a great idea if you are travelling around Japan on a budget and carrying very little luggage.
There is one extra amenity that the Bay Hotel offers, just off the street as you enter the foyer to the hotel there is a foot bath, where you can sit and soak your feet! A very clever design feature, as the hotel is positioned in the main street, it would be an added bonus to soak your feet before resting your head at night!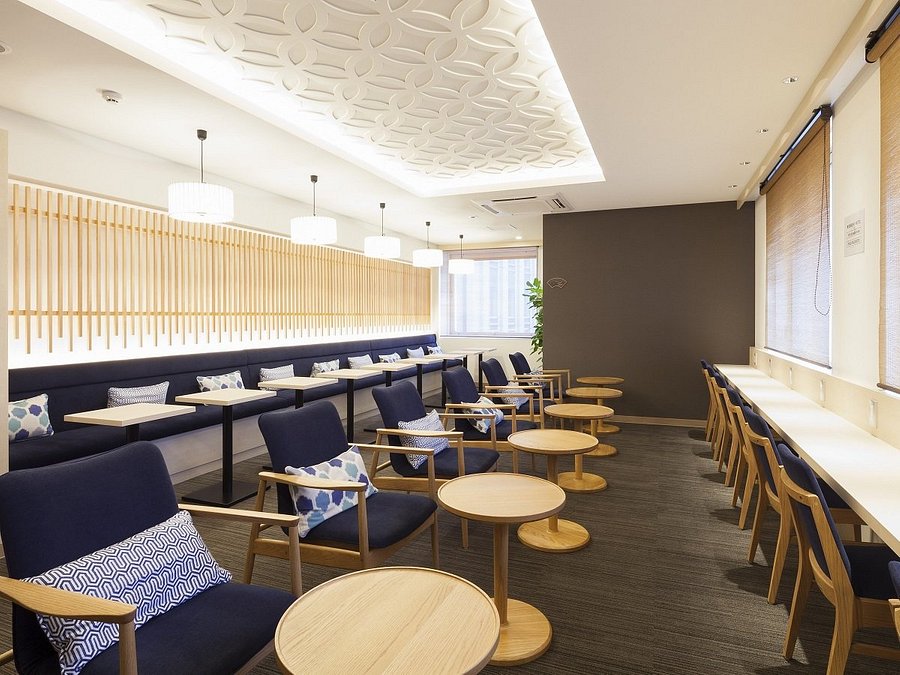 All three capsule hotels that I have documented are slightly different in size, decor and style. They all offer the same budget service of a sleeping capsule, perfect for an overnight stop over. They are all designed in a minimal simplistic style offering comfort on a budget. The sleeping capsules are spacious enough for one or two people, offering privacy with pull down blinds and soft lighting inside each capsule pod, I can imagine the way they are sitting next to each other would mean you can hear noise from the neighbouring capsule. Each hotel has it's own design style, unique in taste, but they all seem to offer the same level of comfort for less money than a regular hotel and this can be achieved using sleeping pods each enclosed for privacy.
It seems that with more people travelling more often, these capsules are filling a gap in the hospitality industry. They are in great locations, affordable, stylish without compromising too much on privacy.
Referencing
(Drescher, 2016) https://www.cntraveler.com/stories/2016-06-10/how-capsule-hotels-became-a-global-trend (accessed 8.2.21)
Images
Fig. 1 The Millennial Hostel bedroom capsules https://www.tsunagujapan.com/the-millennials-kyoto/ (accessed 20.1.21)
Fig. 2 Fig.2 – The lounge area in The Millennial Hostel https://www.tripadvisor.co.uk/Hotel_Review-g298564-d12643852-Reviews-The_Millennials_Kyoto-Kyoto_Kyoto_Prefecture_Kinki.html (accessed 20.1.21)
Fig. 3 The Akihabara Bay Capsule Hotel sleeping pods https://lemiapp.com/lemi/peace-in-a-pod/akihabara-bay-hotel (accessed 7.2.21)
Fig. 4 The lounge area in the Akihabara Bay Capsule Hotel https://www.tripadvisor.com/Hotel_Review-g1066443-d10584033-Reviews-Akihabara_Bay_Hotel-Chiyoda_Tokyo_Tokyo_Prefecture_Kanto.html (accessed 7.2.21)
Fig. 5 The Bay Capsule Hotel, Ginza https://www.tripadvisor.co.uk/Hotel_Review-g14129573-d8594387-Reviews-Tokyo_Ginza_Bay_Hotel-Ginza_Chuo_Tokyo_Tokyo_Prefecture_Kanto.html (accessed 8.2.21)
Fig. 6 Entrance to the Bay Hotel, Ginza with the footbath on the right hand side https://www.booking.com/hotel/jp/tokyo-ginza-bay-hotel.en-gb.html (accessed 8.2.21)
Fig. 7 The lounge area in the Bay Capsule Hotel, Ginza https://www.tripadvisor.co.uk/Hotel_Review-g14129573-d8594387-Reviews-Tokyo_Ginza_Bay_Hotel-Ginza_Chuo_Tokyo_Tokyo_Prefecture_Kanto.html (accessed 8.2.21)