I have found and uploaded images of interior spaces designed by both interior designers and interior decorators. I will now analyse, critique and reflect on the images to explore their differences.
For me the Enscape Community Forum is all about framing the outside view. Furniture is placed so that this experience can be enjoyed by either sitting directly alone in front of the window area or sitting with others around a small table, seeing the view from a different angle. The colour tones and materials give the interior space it's own amazing design, but not taking away the beauty of the view outside. I think both can be enjoyed in their own right.
How wonderful does this space look. Clean straight lines from the pendants hanging to the length of the table top to the patio doors. For me, the colour of the green walls caught my attention first, sitting beautifully against the white, almost clinical but because it's shiny and not matt, they compliment each other wonderfully. I can see this space is used to sit and do work at but I love the way the green hedge outside has been brought indoors with the same colour tone. The use of light framing a spot on the walls above each chair. A very bold colour that wouldn't work in every interior space.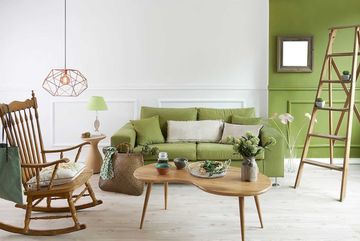 Here we have a functional room with a sofa and rocking chair, enjoying all the aspects of modern pieces. The main focus for me is the colour on the walls. The white wall is broken up with the different colour furniture sitting in front, dividing the room with a colour change on the back wall lets the two colours sit together really well, whilst letting the wooden tones blend in giving that natural feel of greens and browns. I would have preferred to see bolder tones sitting against the white and green, it's a statement in itself on the wall so why not include so garish colours?
On self reflection of this exercise, when choosing an interior space that sends a message of come and get me, it's not always about the size of the room, there are lots of things to consider when designing and decorating a room, but it just shows that bright bold colours can work in a variety of ways. Looking back at the three images, they all give you a sense of wanting to stand out and be different, I think that's what we all would like to achieve as designers, whilst listening and experiencing the interior space as a whole and understanding what the space deserves.
Images
Fig.1 A public interior space – Showcase – Enscape Community Forum https://forum.enscape3d.com/index.php?thread/4416-a-public-interior-space/
Fig.2 Green 26 production office by Anonymstudio https://www.dezeen.com/2016/11/29/12-best-minimalist-office-interiors-workspaces-roundups/
Fig.3 Interior on a Painting and Decorating website https://www.pdnoakedecorators.co.uk/